Calendar of Events
Golf for Covid-19 Relief
August 31, 2020
Benefitting the Los Angeles Jewish Home's Covid-19 Emergency Relief Campaign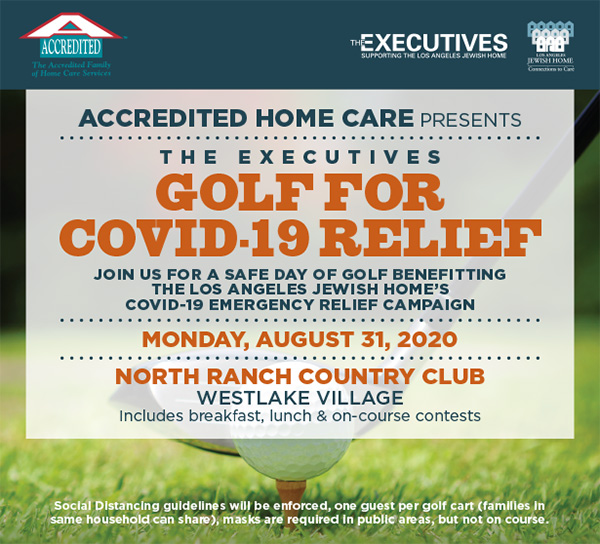 REGISTER BELOW

Please consider making a special gift this year and become a sponsor.
The Jewish Home is incurring tremendous extra costs associated with the equipment, supplies and additional staffing needs during the pandemic. Costs have skyrocketed for supplies such as masks and gowns, which the Home needs in the thousands. Setting up isolation rooms and other unanticipated expenses are all a part of this ongoing need.
The tax-deductible portion of your donation will be matched up to $25,000 through the generosity of The Marcia Israel Foundation.
All sponsorships include a listing on all marketing materials, an ad in The Executives Annual Visions Magazine (5,000+ circulation) and public acknowledgement at event.

Please email ad or copy to executives@jha.org
For questions about your ad, please contact Natalie Mark at 818-774-3332 or natalie.mark@jha.org.
Executives Annual Visions Magazine Golf Classic ad deadline – Friday, August 28, 2020


THANK YOU TO OUR GENEROUS SPONSORS!

Type of event: Fundraiser